About Controlled Electric
With two decades of experience behind us and the skill to handle residential, commercial and light industrial projects with equal aplomb, Controlled Electric is Durham Region's number-one resource for quality electrical work. Whether you're a home owner, a small-business operator or a captain of light industry, electricity is important to you. In fact, it is key to just about everything you do. From the appliances that heat your food to the computers and machines that drive your business, electricity powers it all. So when problems with your current arise, you want them sorted out quickly and effectively.
There's a multitude of electricians to choose from and we believe firmly if you choose us, you will not be disappointed. Controlled Electric's sole mission is to provide the highest quality service, safely, efficiently and the best materials at a reasonable and affordable price. Through careful listening to our clients' needs, learning from our associates, and staying up-to-date on advances in technology in the electrical industry, we are focused on continuing growth as a company and as individuals. With every appointment, we strive to increase our knowledge, earn a new client for life and set the example of what a premier electrical contractor should be.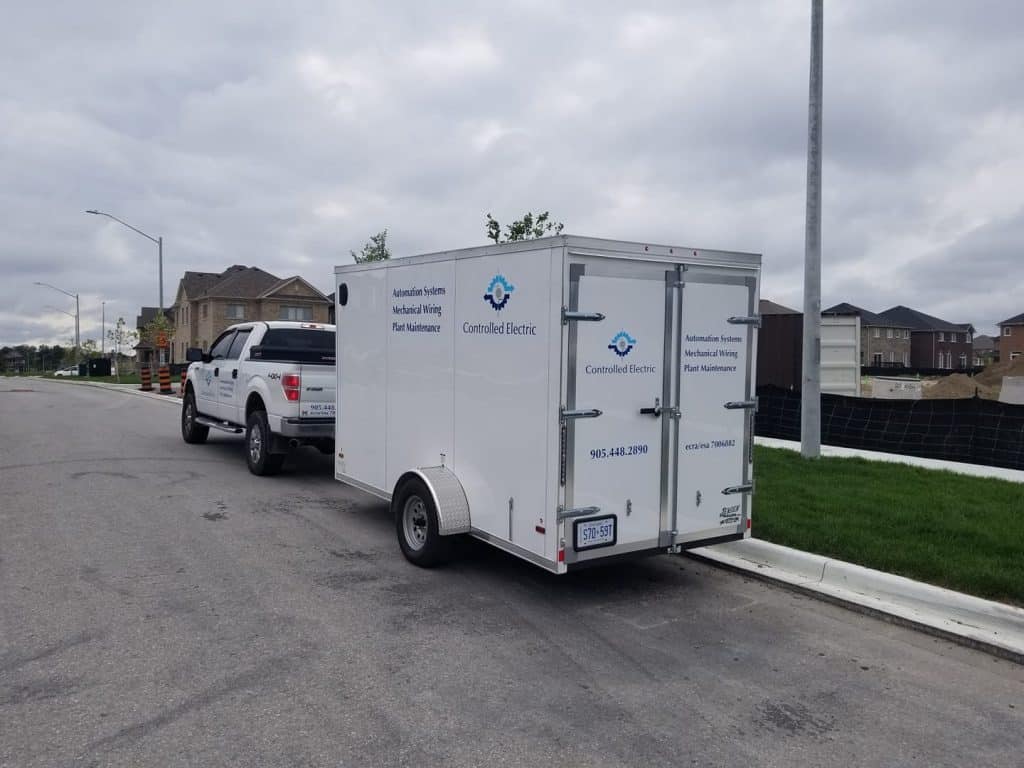 Up Front Pricing
What exactly is Up Front Pricing? Up Front pricing is giving an exact quote to the penny for any type of electrical repair or installation you may need. There are never hidden fees in our pricing. No surprises. We will show you the price up front, before any work is started in writing and the price will not change, guaranteed.
Would you rather have an upfront price for the things you want to purchase or would you like an open-ended ticket that you wouldn't know what the bill is when the contractor is done? Here in Toronto you can turn on the news on any given night and see how a contractor ripped off an innocent consumer. It's very unfortunate and having an up-front price in writing will protect you. Never hire a contractor that will not give you a price in writing with a full scope of the work being done.
Most consumers prefer to know an exact price; that's why we use a national standard Up Front Pricing guide. Controlled Electric only charges by the job, not by the hour.
There are never any hidden charges unlike time and material pricing. Time and material pricing has been a standard for many for a number of years, but we have found it's not fair to customers. Here are few reasons why:
Homeowners have to constantly watch the clock and technician to make sure he is working. He has to make sure he hasn't gone to his van too many times. Talk too much or take cigarette breaks.
Homeowners never know what the price is going to be until the job is done.
No hidden charges or two or three-hour minimums.
The contractor does not have to send expert electricians to the job, because if they get done to fast, that means they don't make as much money.
At Controlled Electric, you will not have to worry about the price or an opened ended ticket and afterwards gets the surprise of your life. No matter, the size of the job, small or large, when our electrician arrives at your home or business, he will first evaluate what you need to have done and will then show you what the job will cost before the job starts. Never have one of those unpleasant surprises at the end of the job. We evaluate every job to ensure that we will provide you with the best and most cost-effective solutions.
Prices come from our standardized pricing guide right from our tablets. We will provide an Up Front Price and go over every aspect of the estimate together. Prices will not be concocted out of thin air or based off of where you live or the type of home you live in. Everyone is treated the same.
We can send copies of your estimates, invoices and home inspections straight to your smart phone, tablet or computer. Just one more way our business is going green.
You don't have to worry about math mistakes or something added or not added. There is no confusing or hard to read handwriting either. Everything is spelled out. Giving everyone a clear picture of what is going to be done. Too many times we have seen bad contracts where the homeowner is not covered.
Please contact Controlled Electric at 905-448-2890 or use our online form to request a service appointment.